Whole Home Renovation San Diego
Whole home renovation projects are costly, but we've found many ways to deliver our clients more for their money.  We'll help you decide how to best spend your budget to include the high-impact items, while deferring work that can easily be done at a later date.  We imagine every project as if we ourselves were going to live there, and make suggestions accordingly. We pride ourselves on the quality craftsmanship of your project and the materials in it. We are trained to maximize the use of your space and make the project flow with the rest of your home. We will work with you on the design of your project until it is perfect for you, not only structurally but aesthetically.
We listen to your needs and desires and match them with the right solutions based on our design expertise. Whether rich hardwood or engineered flooring, granite or solid surface countertops, custom-crafted or prefabricated cabinets, we help you make the best use of your budget so you get high-impact solutions where they matter the most.
Although many people embark on home renovations to increase their comfort, in many cases it can be filled with stress.  However, a whole home renovation isn't as painful as one would think and, actually, can actually provide many benefits.  With the redesign of existing floor plans one can add bedrooms and bathrooms which ultimately add value to the home.  New living spaces can be created such as family rooms and home theatres.  Additionally, that longed for gourmet kitchen, upstairs laundry room, or sunroom that gives the illusion of a vacation destination can easily be realized.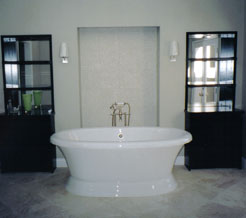 As whole home renovation experts, we will shelter you through your renovation by guaranteeing an experience that is as smooth and pain-free as possible.  We'll be with you from conception to conclusion and guarantee your satisfaction before we leave.  Once the dust has settled and you're living in your newly-remodeled home, we know you'll agree you selected the right company for your project.
We look forward to working with you.